End of road
End of road
Long considered the poor man's Aston Martin, values of the 6 cylinder DBS were for years too low for a full restoration to be worthwhile. As a result, many cars were badly looked after, and some were even abandoned by their owners. Worse still, the DBS was often dismembered to provide parts for the restoration of its more valuable illustrious predecessors, the DB4, 5 and 6. With the increase in DBS values over the past few years the tide has begun to change and many cars are now being properly looked after by classic car specialists and some are even being given a full restoration. But the years of neglect have taken their toll and top examples still remain few and far between.
Below is a series of photos found on the internet. Whereas some cars could still be saved, others have definitely reached the end of the road...
| | | |
| --- | --- | --- |
| | | |
| DBS/5067/LAC | DBS/5692/R | Unknown chassis number |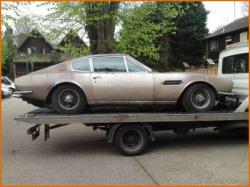 DBS/5162/R
The photos below are of a very sad car graveyard in the United States. Sitting side by side in the foreground (no doubt for decades) are two AMV8's accompanied by a series 1 DBS at the back on the right, and a series 2 DBS in the second row in the middle. The rear section of a DB4 with a blue roof can also be seen in the background. Its front end including the chassis, engine and bodywork has disappeared.
These cars were first discovered by a British tourist in the late 1990's but they were only advertised for sale as a single lot in April 2012. The price asked at that time by the seller was 22,000$. They have since reportedly been sold to a European buyer. I was unfortunately unable to obtain the chassis numbers of the two DBS.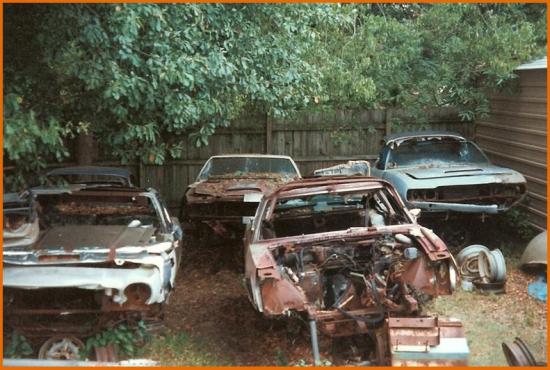 Series 1 DBS
Series 2 DBS
Main sources of information : http://astonuts.free.fr and http://www.dbsvantage.com