1/43 scale DBS model by Minichamps
1/43 scale DBS model by Minichamps

Paul's Model Art GmbH was created on May 1st 1990 by Paul-Gunter Lang, and is a German miniature car manufacturer based in Aachen. Although the research, development and conception of the different models takes place at the company's headquarters, production has always occured in China.
After having made a name for itself as a producer of 1/43 scale diecast miniature competition cars, Paul's Model Art increased its range in 1991 with the introduction of miniature classic and current car models, first on a scale of 1 /24 and then from 1992 on a scale of 1/18. It was only in 1996 that Paul's Model Art GmbH introduced the name Minichamps, which was slowly to became the company's new name. Then in 1997, after launching a range of miniatures on a scale of 1 /12, Minichamps again increased its catalogue with a series of different sized lorries and motorbikes. Today, the company offers several thousand different diecast models, mostly made out of metal in 12 different scale sizes.
Paul's Model Art GmbH is still a family run business. It is directed by Paul-Gunter Lang and his wife Romy and their son Maximilian who now plays a major role in the running of the company
Minichamps has created three different versions of the Aston Martin DBS (a series 1 from 1969), all produced on a scale of 1 :43. The first one is a copy of the James Bond car from On Her Majesty's Secret. It was followed by a limited edition diecast model of only 3,024 cars produced in light metallic green and another limited edition model of only 1,104 cars in Dubonnet rosso red. These three miniatures are unfortunately no longer available, but they remain amongst the best produced miniature versions of the Aston Martin DBS ever made.
Ref. 436137600 : Aston Martin DBS 1969 - James Bond - "On Her Majesty's Secret Service"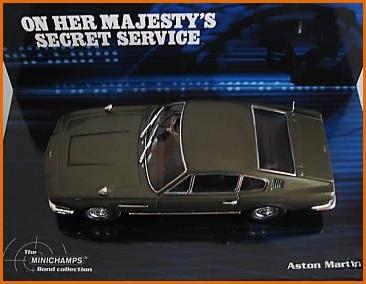 Ref. 400137600 : Aston Martin DBS 1969 - Light Green Metallic
Ref. 400137601 : Aston Martin DBS 1969 - Red Metallic (Dubonnet Rosso)