Origins
Origins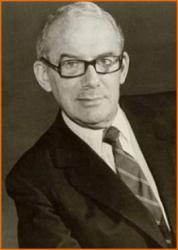 Sir David Brown
It was in 1963 that David Brown, who had owned Aston Martin since 1947, decided it was time to launch a new car equipped with a V8 engine to satisfy the ever-growing demands of the American market. He called on Tadek Marek, the designer of the 6 cylinder engine created for the DB4, to draw up plans for the new unit. The first prototype V8 engine was built in 1965.
Brown then asked Harold Beach, the head of Aston design to develop a new chassis. By 1964 Beach had come up with project called MP 220, a two-door coupé with four seats. The design was then handed over to Milan's Carrozeria Touring already responsible for creating the legendary DB4, DB5 and DB6.
David Brown was increasingly worried about the fall in sales of the DB6, whose ageing style was being superseded by Aston's main rivals. So he decided to develop a new two-seater coupé code named MP 226 which was also handed over to Touring of Milan. The company came up with two prototypes based on the DB6's chassis platform and presented them for the first time at the Paris, London and Turin international motor shows in 1966.
But due to the unenthusiastic reception they received from the public, and Touring's bad financial situation, the MP 220 and MP 226 projects were immediately shelved and all production ceased at Touring on January 31st 1967.
David Brown called in Williams Towns, a young seat designer whom Harold Beach had poached from Rover in 1966, to now be put in charge of drawing up plans for the new car. Towns began work on plans for a four-door saloon car code named MP 230, and whose up-to-date state of the art design immediately appealed to David Brown. He told Towns to shorten the length of the car so as to transform it into the long awaited coupé, but to maintain the spacious interior, especially around the rear seats whose cramped positions had been regularly criticised in the previous DB's.
The Aston Martin DBS was born...
| | | |
| --- | --- | --- |
| William Towns | Blenheim Palace, the 25th of September 1967 | Tadek Marek |